Werbung - publicity - Ford Capri III (II/78) / Mk III (1978 - 1986)
back | next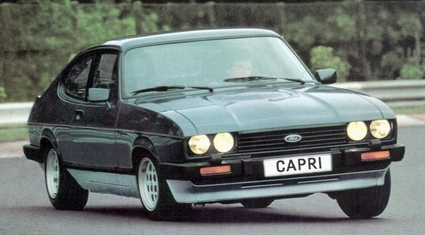 Der Ford Capri III (II/78) 2.8 Injection von 1981 wurde in Grossbritanien vom Special Vehicle Engineering
Departement (S.V.E.) entwickelt. Bis Juli 1981 nur als Linkslenker ausgeliefert, anschliessend auch als
Rechtslenker in » Tannen Grün auf dem Markt. Standart sind 7 X 13 ET5 Zoll Aluminium "Käselochfelgen", Servolenkung
und ein Bildstein Fahrwerk, 4-Gang Schaltgetriebe und ein 3,09:1 übersetztes Differenzial auf die Hinterachse.
» Geschichte Ford Capri III (II/78)
The Ford Capri III (II/78)2.8 Injection from 1981 was developed in Great Britain by Special Vehicle Engineering
Department (S. V. E.). Delivered until July 1981 only as left-hand drive, then also available as
Right-hand drive in fir green on the market. Standard is 7 X 13 ET5 inch aluminium "cheese rims", power steering
and a Bildstein chassis, 4-speed manual transmission and a 3.09:1 ratio differential on the rear axle.
» History Ford Capri III (II/78)


Meetings | Motorsport | Capri I | Capri II | » | Diverse