* 2019

Start of production 1968 - product launch 21 January 1969
* Dezember 2018
We do without a forum.
* April 2018
The competition has been discontinued and now serves as a presentation of the oldest and youngest Capri.

Der Wettbewerb wurde eingestellt und dient neu als Präsentation der ätesten und jüngsten Capri.

Le concours a été interrompu et sert maintenant de présentation du plus vieux et du plus jeune Capri.
* February 2015
* June 2012 - google+ account
* January 2012 - google search box on Capri Switzerland Homepage.
Please enter a keyword or multiple search terms for text and images in the search box above.
For image search you can switch the button "Internet" to "Image" above the search results.
* July 2009 - new with community-features
* April 2009 - Questionnaire - provisionally turned off (hacker attack)
* November 2008
Our intended birthday party - 40 years Ford Capri - in August 2009 - of Switzerland
must be canceled unfortunately for reasons of economy and organizational difficulties.
Woodman makes tearful return to Combe

The famous Cologne Capri of Vince Woodman winning in the 1970s touring cars race

A tearful Vince Woodman took an emotional victory in the first race of the weekend at the Castle Combe Circuit's two-day Classic Carnival, some 22 years after his famous car last raced there.
Woodman, from Chipping Sodbury, achieved international success at the wheel of his Cologne Capri in the 1970s and 80s, the car still holding the Special Saloon lap record at Castle Combe set in 1977, before the circuit was slowed with the addition of two extra corners.
Having undergone a major rebuild and with Woodman recovering from a hip operation, the car qualified seventh in Saturday's rain-soaked qualifying session for the Touring 70s Group 1 saloon car race.
With co-driver Dan Cox, from Bristol, at the wheel, the Ford was in the lead halfway through the second lap, Cox going on to build a substantial lead before handing over to Woodman 30 minutes into the 45 minute race.
Escort driver Laki Christoforou was closing, but Woodman kept his cool, crossing the line two and a half seconds clear.
Holding back the tears, Woodman said: "The car is even better than it was when it was new. It means so much to me to win again at Castle Combe after all these years, just incredible."

Wiltshire Times & Chippenhams News Monday 4th August 2008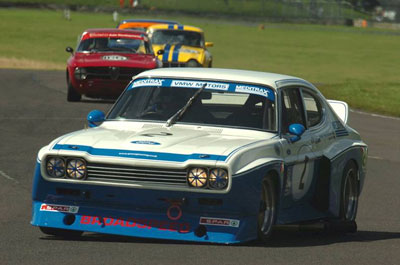 * May 28th 2006 - new » Pictures
* May 29th2006 - achievement » Peter MückeCapri RS

* June 3th 2006 - » Questionnaire - April 20th 2009 - provisionally turned off (hacker attack)

* Juni 23th 2006 - » Picture gallerie Capri I - » Capri Meeting

* July 25th 2006 - new pictures and technical data of » RS 2600 manual handbook

* August 7th 2006 - Technical explanation report, pictures of the » Kugelfischer - mechanical injection
* August 20th 2006 - Technical explanation report, pictures of the » Mako V8
* August 23th 2006 - » May-turbocharger
* August 24th 2006 - » Coloring card
* October 15th 2006 - » New pictures gallerie Meetings
* Oktober 29th 2006 - » K-Jetronic gasoline injection
* December 27th 2006 - Divers new pitures » Picture gallerie
* January 6th 2007 - finish » K-Jetronic gasoline injection and safety instructions
* January 10th 2007 - » rear spoiler Capri Turbo - to download
* January 21th 2007 - » Technics - manuell handbook - to download
* January 25th 2007 - » carburetor - to download
* February 28th 2007 - » Brochure Ford Motorsport - to download
* June 25th 2007 -Picture gallerie Capri meeting » Rheinfelden (CH)
* June 30th 2007 -Picture gallerie Capri meeting » Speyer (D)
* July 20th 2007 - Picture gallerie » 5th meeting point Ford of Ford Club Jekami (CH)
* March 3rd 2008 - » picture gallerie I-II-III - divers
* May 15th 2008 - » picture gallerie Capri meeting by Läufelfingen (CH)
* December 30th 2008 - » picture gallerie - New pictures from Capri meeting in Chur (CH) 1994
* January 2th 2009 - Technical explanation - setpoint engine
Homepage statistic

On » info (at) fordcapri.ch (Spam codes) we are pleased to give you as a sponsor our user data.
Capri Switzerland only uses the pictures to the best of our knowledge and for entertainment of the visitors.
If you find mistakes or text modifications please feel free to » contact us.
To retrieve news around the Ford Capri please go to our » German News-Page in the meantime.